About Oman
Geography and Climate
The Sultanate of Oman is a beautiful country with a deep-rooted heritage and culture.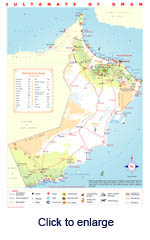 The first thing that often strikes visitors to Oman is its dramatic and varied landscape and the friendliness of the people.
Oman has been described as unspoilt, natural and very accessible with its high, rugged and wild mountains, wadis (river beds), palm-fringed oases, expansive deserts, lagoons and miles of white sandy beaches. With constant blue skies and temperatures seldom below 25°C between September and April, Oman is an attractive place to live. When the temperature is high on the coast, the mountains offer a cooler break, with wonderful terraced gardens and Mediterranean-style fruits.
Oman is roughly the size of Italy with a population of approximately three million, the majority of whom are Omani nationals. With nearly 1700 Kilometres of coastline, Oman borders Yemen to the South West, the United Arab Emirates (UAE) to the North West and the Kingdom of Saudi Arabia to the West.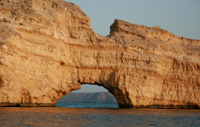 Oman is naturally divided into four Governorates; Musandam, Buraymi, Muscat (the capital) and Dhofar with five administrative areas, Al Batinah, Al Dhahirah, Al Dakhliyah, Al Wusta and Al Sharqiyah. There are also many other geographical regions with very varied terrain from the verdant Batinah coast to the desert of the Empty Quarter.
Dhofar, with its capital city of Salalah can often look as green as the Welsh mountains after the monsoon rains; whilst the Musandam is often likened to Norway with its striking fjords. Uniquely, the Musandam is separated from the rest of the country by the United Arab Emirates and is of enormous strategic importance, controlling the main stretch of water, the Strait of Hormuz, through which the majority of the worlds' crude oil is transported. It is also the most easterly point in the whole of the Arabian Peninsula.
Omani Culture and Heritage
Oman is a melting-pot of cultures, where tradition and values have been well preserved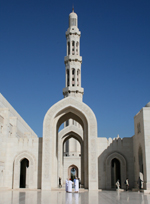 Omanis are renowned for their legendary hospitality and ooze a generosity of spirit which is unique to this part of the world. By any international standard, Oman can be considered a safe place to live with very low crime rates and a stable environment. Visitors are welcome and treated, with the greatest respect, which should be reciprocated and English is widely spoken.
There is a great sense of well-being and once you have experienced living in Oman, you may find that the magic works and you will always be drawn back here as so many families have been over the years.
Oman is a treasure-trove of history with a rich cultural legacy with signs of civilisation dating back to the 4th millennia BC. Oman has always been a sea-faring nation and its trade of frankincense and copper remains strong today. There are hundreds of ancient forts, castles, mosques and historical sites in the Sultanate of Oman, some of which are designated World Heritage sites. Oman is proud of its rich history and it is worth visiting the many museums.
Oman's Economy and Development
For nearly four decades Oman has witnessed exponential growth and international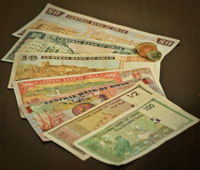 recognition, not only as a stable Middle Eastern country but one that has opened its doors to development, including tourism on a grand scale. With excellent infrastructure and communications, Oman is easily accessible with all the usual facilities required in everyday life.
Part of Oman's charm is the world-class infrastructure of luxury class hotels and shopping malls alongside lively souqs (markets) with the comfortable juxtaposition of old and new. Even modern Omani architecture reflects age-old tradition and Islamic features with only low-rise buildings contributing to a feeling of light, airiness - modern elegance with historic charm.
His Majesty Sultan Qaboos bin Said, renowned for his international diplomacy and peaceful ties with other countries in the region, recently said, "The land and people of Oman are in my heart and mind. My post is a responsibility rather than a privilege".
In 2006, by Royal Decree, His Majesty Sultan Qaboos announced that expatriates would be able to purchase property in Oman in designated areas. As a result, several prestigious real estate developments are underway. The Omani Rial is pegged to the US Dollar.
Economic performance continues to be favourable with anticipation that the travel and tourism sector is expected to grow to RO 3.36 billion by 2018. Residents of Oman enjoy a high standard of living; the tremendous growth not only in real estate but also in new areas of manufacturing is encouraging further growth in diverse business sectors.
Activities and Adventure in Oman
For those who seek adventure, Oman is an ideal place to be as there are many off-road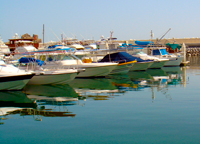 experiences to pursue. Camping is very popular in the cooler months and the turtle nesting sites are worth a visit. Marine life is exotic; snorkelling, diving, whale and dolphin watching and fishing are regular pastimes. Other water sports include sailing, boating, water skiing and kite-surfing.
Land-based activities include rock climbing, trekking, caving, tennis, badminton, squash, volleyball, rugby, Hash House Harriers, sand skiing, hockey, golf, Boules, ice skating and the national sport, football. Motor sports include rallying and scrambling.
The Equestrian Federation promotes dressage, show jumping, horse racing and riding; maintaining Oman's heritage links with the Arabian horse. There are numerous well-equipped gyms and swimming pools throughout Oman and personal trainers are available too.
Many societies exist in Oman, from art to zoology and just about anything else in between. So, there really is something for all tastes and ages, confirming what Condé Nast Traveller recently said that, "Oman is a new discovery with a great mix".
Key Information: